News
Look here for current updates and information.
Covid-19 & Online Lessons
Dear Students,
In order to contain the risk of Covid-19 virus spread, I continue to give lessons online via video calls rather than on a face to face basis.
I have been teaching online (since 24th March 2020) with good results and have found there are actually some advantages such as no travel needed to attend lessons, and students always have their music (It's not left on the bus or in the car!).
The following will apply:
We sit side by side just as we normally would - only we are in cyberspace!
Please set up your device or webcam at one end of the piano so that your hands can be seen. You will need to have it supported upright on a stool or table high enough to see the keys.
If using a mobile phone, stand the phone upright at the end of the piano looking along the keyboard. Place a small object in front to stop it slipping.
Have your notebook and a pencil/eraser handy.
I have chosen Skype (see link below) as my application of choice for our online lessons, it is free and available for a huge range of devices including mobile, desktop, tablet, iPad, Alexa, X-Box and more.
Skype: My Skype name is: L.Buttenshaw
Resources, theory sheets and extra information will be emailed – let me know which address you would like me to use!
Students will be able to catch up on their general music knowledge, music appreciation and music theory. I will send you activities to do at home.
I appreciate there may be some initial 'setting up' issues!
I am looking forward to continuing our learning and seeing you all 'on screen'!
Please do not hesitate to contact me with any questions.
All the best,
Lucy
NB: Please let me know if you do not have internet or if your connection is very poor. We will discuss avenues of learning including activities that can be posted or safely collected when you come into town. I have even had people play music over the phone! Your lessons may need to be modified to suit your situation, but we can work together to maintain some continuity and worthwhile learning.
Usefull Link:
Download Skype
---
We are a Creative Kids provider
Create something great. Claim your $100 Creative Kids voucher today. As a registered provider for the Creative Kids program, you can redeem your voucher with us and let your child develop new skills. Enrol them in a new activity so they can create something great. For more information regarding the Creative Kids program, or to learn more about the more than 40 government savings and rebates to help with your cost of living, visit:
service.nsw.gov.au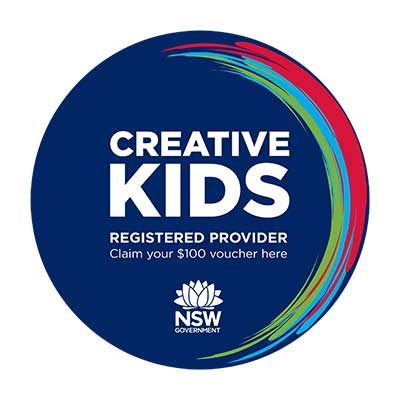 ---
Tips for good Skype!
Turn your volume down to a level that you can still hear, but that is not over loud. This will avoid Lucy hearing her own voice coming back at her a fraction of a second later. Better still use headphones if your device has a headphone socket. A microphone/speaker headset is good too, but you will need both a microphone and a headphone socket on your device. Ensure that the leads are long enough so that you can still sit at the keyboard.
If using a computer with a wireless (WiFi) connection to the internet modem, the slower speed of this connection can be a problem. If it is possible to connect directly to your modem with an Ethernet cable this should improve signal speed and avoid interference.
The bandwidth of your connection is finite, it's ability to carry lots of data at an one time is limited, therefore If you're about to launch Skype, it's a good idea to shut down Netflix, Spotify, and anything else that might be chewing through your data. Obviously this is more relevant for those of with slower broadband or Skymuster but no matter what your connection speed, you want to maximise the amount of bandwidth available to Skype during your lesson.
If you have a laptop it may help if it is plugged into the mains. Most are have settings that conserve battery power when not plugged in, this can have an effect on the quality of a Skype call.
Ensure your device has an up-to-date version of Skype.
Lastly, the camera lens can ocasionally get smeared by a greasy finger, resulting in a blurred image. A gentle clean with a lens cleaning cloth, can provide a simple cure.
Latest Skype versions (listed)
How to test Skype sound (echo test call)
Martin Lane.
---